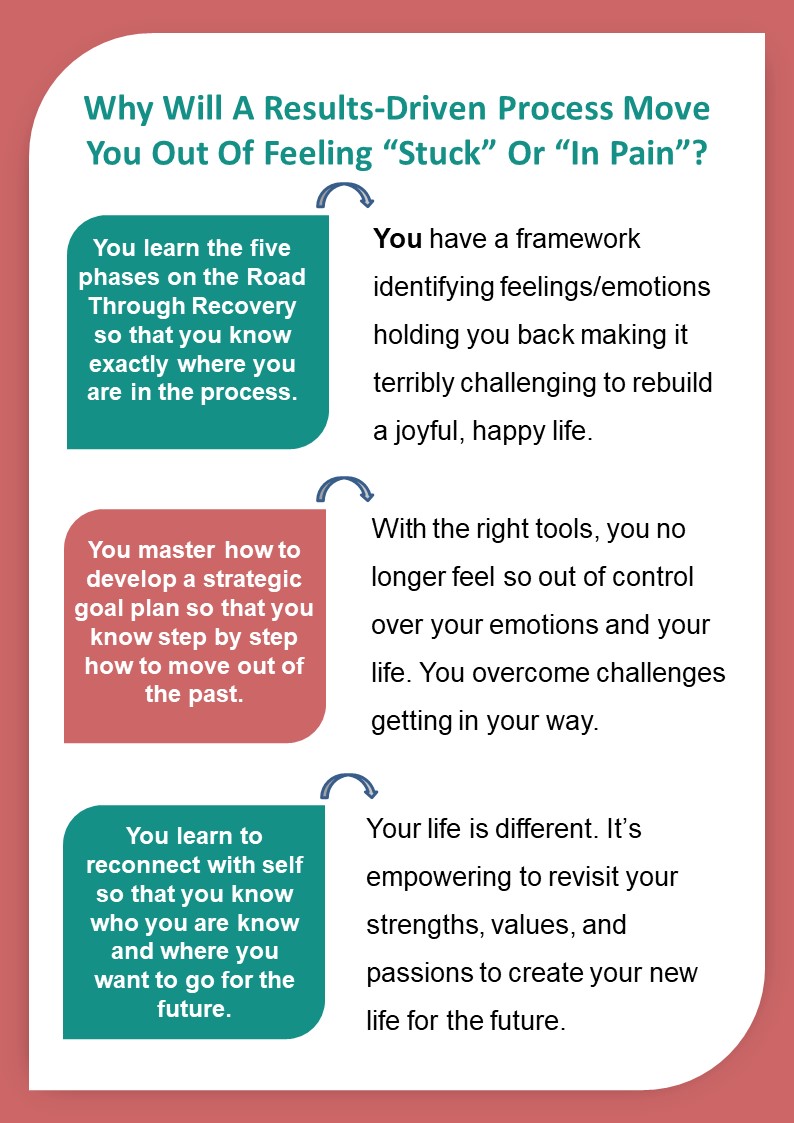 I Get It!
I Was Where You Are Now.
I try everything from counseling (I was a counselor and educator before transitioning to coaching) to reading every self help book I can get my hands on.
Nothing Works! To be honest, I'm waiting for someone or something to come along to save me from mental bars I feel are up all around me.
Well guess what! No one comes and nothing happens...
I realize trying to find answers outside of myself doesn't work. With my experience, background, and expertise, I create my own PLAN that helps me to create an amazing life. This was how my five step process comes to be--step by step.
I started using the process within my own coaching practice helping others like me who didn't know how to begin rebuilding a new life and creating it on their own terms. It was such a huge success that now I just specialize in coaching divorce recovery.
Your coaching experience will always be taking you moving forward. There is no groveling around in the past.
With my guidance and expertise, you'll be guided to recover and heal from the inside out. Discovering how to do this gives you power and confidence to rebuild a new life full of joy and happiness.
You are only one coaching experience away from rebuilding your new life on your own terms.
This Is The PLAN I Designed When Nothing Else Worked For Me.
Now I Want To Share It With You.
Depending On Your Specific Needs,
We Will Decide What Works In Giving You Your Best Results.
Frequently Asked Questions
Where should I be in the divorce recovery process to get the most benefit from coaching?
You should have already transitioned through your divorce. You have made the decision to change your life and ready to do the work to make it so.
How do I schedule my coaching sessions,
and how many do I receive?
Upon purchasing the package, you'll receive further instructions on how to book a time for your coaching sessions. I provide a link to
Calendly.com
You will receive weekly coaching sessions for 12 weeks.
Can I get a refund if I'm unhappy with my purchase?
If you are unsatisfied with your coaching, reach out and we will refund what you paid for the package minus the coaching you already received. Up to 30 days--no questions asked.
Testimonials
"After going through my divorce, I found myself pulled in many directions being caught up in the complex process. I was neglecting my physical health. With Donna's help, I was able to start rebuilding my life by gaining a new, fresh perspective which enabled me to better manage my stress, anxiety, and overwhelm. My learning how to do that, I was able make better decisions that were in my best interest."
--Ginny W., Health and Wellness Coach, New York
"I was really stuck. I was just going through life doing the same old boring things never thinking that I had the power to make my life different. I had no real purpose. Also, my old lifestyle was holding me back but was afraid to do anything about it. Donna's guidance and support gave me the courage to work through her process and change my life."
--Rachel M., Elementary School Teacher, Massachusetts
"After my divorce, I didn't think I deserved to have any love or happiness in my life. I was desperate to change these thoughts and feelings. Working with Donna, I was able to learn to change my mindset so that I could begin to believe that I deserved a happy, new life going forward."
--Betty, Coffee Shop Owner, Florida
"My life was pretty good except in the romance department. Now that my divorce was over, I wasn't sure what my next step was. I didn't want to make the same mistakes I made before. I started to see that by taking care of my inside, I would make better choices the next time around."
--Jane T., Homemaker, Rhode Island


Have Questions? Want To Speak Directly With Me?
Complimentary Session (20-30 Minutes)
If you are ready to move out of the past and rebuild a new life filled with joy and happiness, this complimentary coaching call is for you.
Find out how we can work together to give you the results that you want and need to rebuild your life on your own terms.
On this call, we will explore what your next best steps are in moving you forward into a life full of joy and happiness.
Click here
to set up a time and date as I look forward to chatting with you.